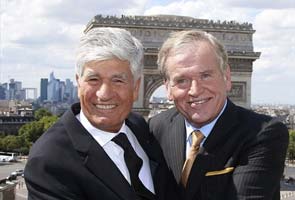 The merger announced yesterday of the 2nd and 3rd largest Ad Agencies, Publicis and Omnicom, is indicative of the threat of digital.
You'll note the PR Merger photo above of both CEO's had the recognisable Arc de Triomphe as a backdrop.....lest anyone be confused who's in charge here. Publicis are a very proud French Group (I worked with them).
Whilst creating the world's biggest Agency Group (leap-frogging WPP's 17 billion), they will have combined revenues of circa 23 billion usd. That's a long way short of Google's 50 billion usd and importantly, both agencies have been able to show little organic growth in a depressed, changing, Ad Agency landscape.
They are established, mature, traditional Ad businesses who are suffering from losses of revenues to digital Agencies and consequently have been showing only single digit growth. Omnicom grew by 2% in the first half whereas Publicis by 1.3% and after suffering a 6%+ decline in Europe.
Their new combined market cap is 35 billion usd whilst Google? 295 billion.
Traditional Ad spending is slowing globally and even in new markets such as Asia and China, only showing 5-7% growth as Clients move away from the traditional Ad and Ad Agency, model.
From a client viewpoint, the merger does bring more media muscle - bad news for already hard pressed media owners. However, conflict of clients will always be a problem here.
Good creative has nothing to do with size except, a larger Agency will have more creative resources.
The key to this is the merger savings (estimated at 500 million usd) in an attempt at helping profitability......but that's a lot of pain, a lot of job losses.
Mergers like this, whilst improving shareholders income (both shareholder sets will be 50:50) through cost-savings, does not deal with the core issue - the traditional Agency model is wrong.
Agencies give away their ideas in the hope to profit off the creation and implementation of the work itself. And they continually pooh-pooh digital which clients want, rather than jumping on board.
We will see what happens but in order to achieve those "merger efficiencies" as they say, expect changes at a local country level. Which will mean mergers of local Agencies and redundancies.
But fundamentally it's a response globally to one thing - the ongoing "threat" of digital to Ad Agency revenue.
A case of, rather merge, than deal with the big issue.....
(Pretty good insight here too from Business Insider http://www.businessinsider.com/heres-the-big-downside-to-the-publicis-omnicom-merger-2013-7)