(Normal Friday blog follows directly below and after this mini-post)
It is horrific that 12-14 (toll not finally confrmed) people have lost their lives when watching The Dark Knight Rises film in Aurora, Denver. Tragically, that's about 40 miles only from Columbine. The shooter has been named locally as James Holmes (24) a white american.
A San Diego woman, identifying herself as Holmes' mother, tweeted and told ABC News: "You have the right person. I am flying to Colorado".
He is not believed to be on any terror watchlist or have a criminal record. Equally, we cannot find a Social Media profile for him.
"Michelle and I are shocked and saddened by the horrific and tragic shooting in Colorado. Federal and local law enforcement are still responding, and my administration will do everything that we can to support the people of Aurora in this extraordinarily difficult time," Obama said in a statement.
"As we do when confronted by moments of darkness and challenge, we must now come together as one American family," he added.
Seemingly as the trailers were ending, just after midnight, a masked young man (24) went to the stage, which led peple to believe it was part of the movie, stood in front of the screen and threw tear gas. Then he started shooting indiscriminately with one rifle (described as an AK) and two handguns whilst wearing a bullet-proof vest. He may also have had a shotgun. The reason for multiple weapons is to allow the shooter have constant fire without having to reload.
It's undoubtedly true that most of these victims will be children (a 6 year old is in a critical condition) or teenagers as The Huff Post have already indicated as well as, an elderly "80 year old" man. Probably someone's Grandad taking the kids to see the film. God.
A baby (6 months old) is being reported as being shot at point blank range but unconfirmed.
It would seem he has been arrested in the cinema parking lot with his weapons, but as time goes on we'll get more information on Twitter and Blogs and YouTube and Social Media. It's events like this, happening in Colorado that Social Media allows me, sitting in Dublin, or you wherever you are, to watch them unfold.
A report just in says that a Hyundai in the Cinema car park is being closely examined and believed to be owned by the shooter, came in on Twitter from an observer at the scene.
His Apartment on 17th street is being searched gingerly because one police officer tweeted that it was "booby trapped" with "some chemical inside". They broke a window and inserted mini-cams to get a good view of the inside. Surrounding homes had to be evacuated.
Initially there was a view that it was seemingly part of a double attack but that's been discounted - however, always remember that you can't trust every report on Social. People may do it with sincerity but just get it wrong.
However, look how well it works in pushing the news around. And how I'm able to give you the news on a blog.
May God look after them.

emergency crews at the scene in Aurora, Denver, where 14 people have been killed at a Dark
Knight Rises screening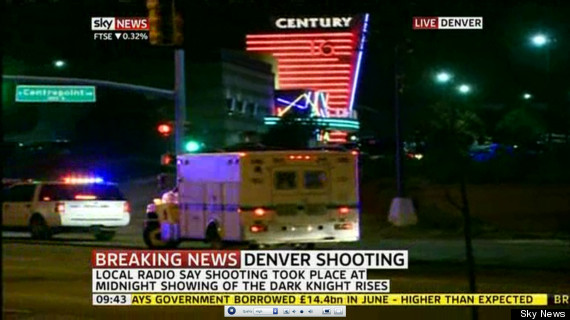 @CBSDenver

CBSDenver
BREAKING: Explosives found at suspect's home in Aurora. At least 14 people killed in shooting at Batman Premiere at Century 16 tonight.