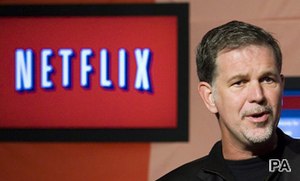 Mashable
, the probably best regarded technology blog, has named its breakthrough brand of 2013 as
Netflix
. Right too.
Two years ago Netflix was dead and it's a real lesson how a bricks + mortar business embraced online. You might not know, but Netflix then, was a DVD seller sending them to you by post.
When they opened their online streaming business, they offered both (online or by post) but increased their price by 60% causing outrage on social Media (and a mass customer exodus).
CEO Reed Hastings was named the worst CEO by The New York Times and the shares went into freefall. Then.
It was only a new focus on their online business that brought back customers and early in 2013, their first real good performance with a 7m usd profit on the last quarter of 2012. And a big growth in subscribers, eating Blockbuster along the way who didn't react.
They ploughed money back into the service with more content and international roll-outs. They used their money to build their business with a clear identification of low cost movies aimed at families with kids. No porn here and possibly no blockbusters, but good solid family stuff at 7 dollars a month.
They released 'House of Cards' in February and it all started to come right topping 40 million subscribers now. Stunning. It was the top performing share early in 2013, up 300% year-on-year (YOY).
The future could not look brighter.
Better content supported by their cashpile, with an opportunity to enter new markets and with business acumen to keep at their brand, couldn't be better.
They are already the new TV. Advertising money, if they decide to take it (they may not since it's not conducive to their brand offering) awaits in the billions.
Subscribers looking for additional premium services like live sports, await on the sofas.
It's a great digital story.
The new Apple one.