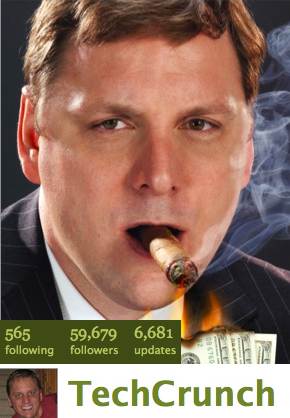 You know the way it is.
You've gone to lunch, had that bottle of wine too many and now you're going to tell everyone what you really think. So you draft that email but most of us never send it until the next day at best, because we're old hands.
Or that text you send and the next morning you look at the phone, arm extended, with one eye, going "no, please, I didn't, did I?".
Just like Jerry Comyn did last month http://streamabout.blogspot.ie/2012/05/irishman-jerry-comyn-leaves-us.html and Greg Smyth of Goldman Sachs, before him.
So you're a blogger with Techcrunch.
Techcrunch was founded by Michael Arrington (yeah, that's him at the top of the blog. Get my drift?) in 2005 who is no longer there but famed for a 2010
a verbal confrontation with CEO of Yahoo!, Carol Bartz. Arrington started the interview by asking Bartz, "So how the fuck are you?" To which she responded, "Is that appropriate?". Later in the interview, Bartz became perturbed with Arrington's criticism of the Yahoo! business model of conglomeration rather than single revenue source producers. Bartz then responded to Arrington saying, "you are involved in a very tiny company" and ended the exchange by telling him to "fuck off." Bartz received some support from bloggers for her response, including Guy Kawasaki who stated, "I respect Carol Bartz even more now." (per Wikipedia).
Techcrunch is o
ne of the top 2 techy blogs along with Mashable, and so as one of their writers/reporters, you're invited by Flipboard (which I love) to a function to tell you about how it's expanding their monetization policies. Not exactly fascinating but still, has to be done. Pays the rent and all that.
But you have had that extra bottle of wine and you've just about had enough. So you start to write your post for Techcrunch. Think of a good headline. Here's the one Alexia Tsotsis went with
Flipboard Expands Its Monetization Options To Paywall. Welcome To The Future, Old Media Assholes.
Old Media Assholes? Hmmmm interesting approach. But having started, let's not stop there. No way, let's go all the fucking way.
Fuckers I am so sick of reporting on incremental tech news for fucking two years now, so sick I'm pretty much considering reverting full-time to fashion coverage. (Don't believe me? Well, how amazing and beautiful is my"Clothing I Like and Want To Buy" Pinterest board? A.k.a. my greatest accomplishment in my life thus far …).
But yeah, The New York Times took a step towards the future this blasted Sunday night and all of us tech press are expected to cover it like lemmings. Fine. Sure. It's a big deal, in a business that is slowly dying, to show an understanding of 21st Century distribution mechanisms. Kudos NYT. You're still worth less than Instagram. Hahahahhaha, lol (drink).
But still you, The New York Times, are way more important than I am, because you convinced Flipboard CEO Mike McCue to work with you early on, which by the timing of this post you could probably figure out that I couldn't do (in time). Fail. But we're still covering it because this is the first time Flipboard has offered a paywall option, and it shows a promising alternative revenue stream for both parties involved … Welcome to the future, old media assholes.
So in between the downing of tonight's two bottles of wine, I had the good fortune to ask new media visionary McCue the questions y'all are dying to ask, and here they are — Because he was cool enough to answer me …
And then the questions all seem reasonable - like they're straight from a press release.
But let's not finish there. Let's just roll it all up in a final insult.
So there you have it. If both Flipboard and The New York Times were public companies and you asked me to convert my invaluable Aol stock into either right now, one and a half bottles of wine deep, I'd instinctively go with Flipboard. Suck it, old media. And please die more slowly from now on, because I (clearly) hate you.
Of course, you're all saying this didn't appear on Techcrunch yesterday.
http://techcrunch.com/2012/06/25/die-less-slow/
And you're also saying it wouldn't have got past the editor.
Nope because Alexia is the co-editor.
Alexia Tsotsis
CO-EDITOR
Alexia Tsotsis is the co-editor of TechCrunch. She attended the University of Southern California in Los Angeles, CA, majoring in Writing and Art, and moved to New York City shortly after graduation to work in the Media industry.
She made the Forbes, "30 under 30 rising stars media list". One wonders will she do it again this year?
As for Techcrunch?
Well to be fair, they've left the post up.
There's a bit of integrity about that somehow.
But a shocking bit of concern that albeit "approved sources" can write anything on Techcrunch without somebody reading it? That is a huge issue.
Techcrunch needs to be seen as impartial and honest.
If no-one is checking the writing, it opens up huge potential pitfalls - paid to blog just being one.